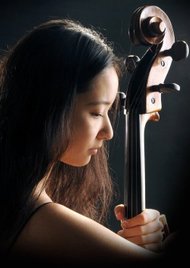 Aiki Mori-von Schnitzler was born in Japan in 1988. She began playing the piano when she was six. At the age of eight, she discovered her love for the cello and began her tuition with renowned cellist Hakuro Mohri. After just a few years she was attending master classes in Japan, Germany and France with Philippe Muller, Alexander Rudin, Young-Chang Cho and Wolfgang Boettcher.
When she was 15 years old she was accepted into the class of Frans Helmerson at the College of Music and Dance in Cologne, gaining her diploma there in 2009. Her chamber playing benefited from the guidance of Harald Schoneweg, Rainer Moog, Anthony Spiri, Richard Gwilt and Pavel Gililov. She played in the York Höller farewell concert of 2008 at the Cologne College of Music. Further significant impetus for her artistic development came from Karine Georgian in London and Roland Pidoux in Paris.
Aiki Mori-von Schnitzler has distinguished herself at numerous leading competitions in Japan. She won first prize and the Grand Prix at the Japan Classical Music Competition and the Gold Prize at the Stars of Tomorrow Competition. In each of these competitions, she was the youngest prizewinner in the history of the event.
Her international concert schedule has taken the young artist to Germany, France, Italy, England, Switzerland, Ukraine, Poland and Russia. She has performed as a soloist with the Folkwang chamber Orchestra Essen (Germany), the Kaluga Chamber Orchestra (Russia) Symphonie Orchestra of Chernigov (Ukraine), the Anglo- Japanese Society of Wessex Ensemble (England). The cellist has been praised by critics for her "incomparable expressiveness", her "wonderfully warm tone" and her "powerful playing".
In 2013 she founded the Mori Trio together with pianist Asa Mori and violinist Werner von Schnitzler. Their debut CD with Antonín Dvořák's piano trios op. 65 and op. 90, recorded in 2017, received excellent reviews from the BBC, Radio France, Vltava Czech Radio and other radio stations. The magazine Pizzicato applauded it as an "enriching Dvořák recording with an excellently arranged Mori Trio." MusicWeb International commented: "These new accounts are gratifyingly played displaying excellent unity and intonation."The French Clic Musique wrote: "The strings sound beautiful and expressive. The piano sings with finesse and discretion. "And the French magazine ResMusica, accords it the highest praise by placing it in a series with the recordings of the trio Ax-Kim-Ma, the Beaux-Arts Trio and the Suk Trio.
Mori Trio made their debut concert with the Triple Concerto by ‪Ludwig van Beethoven with the Folkwang Chamber Orchestra Essen and conductor Johannes Klumpp.
A highlight in 2020 is the Beethoven ballet concert, a collaboration with legendary choreographer John Neumeier and his Hamburg Ballet Company.